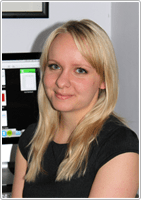 Book With Lorraine Green
Lorraine Green
Lorraine Green qualified as a podiatrist in 2005 and worked within the NHS for five years gaining experience in both musculoskeletal and high-risk wound assessment and management of the lower limb. In 2010 she was successfully appointed as a clinical research podiatrist at the University of Leeds with an honorary contract at the Leeds Teaching Hospitals for her continued clinical work. She completed her Masters Degree in 2012, focusing on musculoskeletal and high-risk patient care.
She has trained podiatrists across the country on delivering a podiatry package of care (including footwear assessment, orthosis provision and foot and ankle exercises) as part of a national study in the prevention of falls, funded by the Department of Health.
She is now funded by the National Institute of Health Research (NIHR) to undertake her clinical PhD at the Leeds Institute of Rheumatic and Musculoskeletal Medicine. Here, she works closely with the Scleroderma Programme and the Foot and Ankle Studies in Rheumatology (FASTER) Group at Chapel Allerton Hospital, Leeds.
She plans to continue her private work and use the specialised clinical and research work to compliment the management of her clients seen in the Good Health Centre.
Lorraine Green's Expertise
Ask Lorraine Green a Question