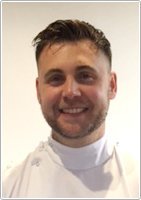 Book With Luke Noone
Luke Noone
Born and raised in Yorkshire, after college I decided to move down south to attend university in Surrey. After studying for four years at the Surrey Institute of Osteopathic Medicine, I qualified as an osteopath in 2010.
Since then I have moved back to Yorkshire to practice osteopathy and private healthcare in the Selby and Leeds area in my own clinics as well as for other large practices. I am also lucky enough to have involvement with the MSc Osteopathic Medicine Degree at Leeds Beckett University where I worked as a clinical and technique lecturer.
I love my profession and have special interests in medico-legal reporting, lower lumbar back pain and general practice.
My aim as an osteopath is to treat all patients to the best of my ability to give them the best possible results; to initially reduce pain for the patient then to restore them to their normal function as soon as possible.