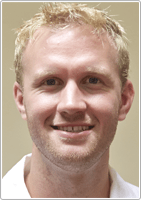 Book With Ole
Ole Gulliksen
Ole grew up in Norway, but has been living in Yorkshire since 2008. He left the Norwegian Special Forces to study sports science and deep tissue massage at the University of Leeds before moving on to complete a Masters Degree in Osteopathy at Leeds Metropolitan University.
Ole has a keen interest in the body's inherent ability to heal itself and aims to identify issues such as stiff joints, tight or weak muscles as well as lifestyle factors including a poor workstation setup or bad exercise habits that might prevent one from having a healthy body. Alongside treatment, Ole finds giving people 'tools' to help themselves can speed up the body's rehabilitation and help limit problems from returning in the future. He therefore ensures that exercises, postural advice and stretches are given in his treatment sessions when necessary.
Through playing sports from a young age and taking part in strenuous physical tasks with the military in Norway, Ole is comfortable treating sport related injuries as well as chronic problems that reduce the quality of everyday life. Helping people to a better quality of life by reducing pain and other symptoms compels him to continue studying in order to develop his knowledge & skills further. Ole also has a special interest in treating chronic headaches, and as part of his Masters degree, completed his research dissertation on the topic of long standing headache problems. He believes osteopathy has much to offer someone who's not been able to resolve their headaches through medication.
Ole's Expertise