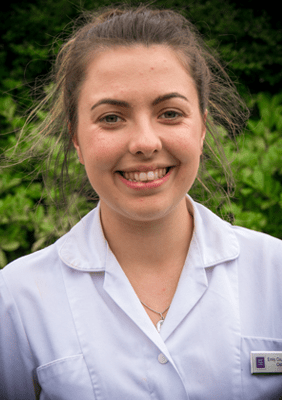 Book With Emily
Emily Coulthard-Jones
Emily is a driven osteopath with a thirst for knowledge. She leads a busy lifestyle but wouldn't want it any other way. She works at two other clinics around Yorkshire as well as being an Assistant Manager at a local bar whilst studying a postgraduate course in animal osteopathy with the focus on horses. Emily has an extensive background around horse riding and by May will be adding equine osteopathy to her skill set. Emily first developed a passion for osteopathy through playing county level hockey due to her many hockey related injuries! Emily also enjoys other activities such as skiing, running, yoga and walking.
Emily's drive for osteopathy and aiding her patients into better health is what really motivates her. She is a recent graduate from Leeds Beckett University and therefore has relevant and up to date knowledge in musculoskeletal care and osteopathic treatment. These include basic kinesiology taping, cranial techniques and dry needling. She is keen to work in partnership with each of her individual patients; improving their health and quality of life through tailored osteopathic treatment, individualised home advice and exercise. Emily has seen her best results with neck and lower back pain and believes this is where she is most effective.
Emily is registered with the General Osteopathy Council and is fully insured by the Institute of Osteopathy.
Emily's Expertise