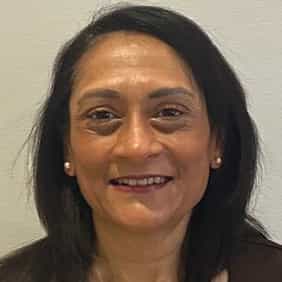 Kirtida qualified in 1987 as a Register nurse then progressed to successfully completing a post graduate training on lymphoedema management at Thames Valley University.
If you feel that you may need any lymphoedema treatment you can find out more by clicking the link below:
Medical Lymphatic Massage
Lymphoedema is a condition that mainly affects the limbs though it can also affect other areas of the body. This can be caused by cancer treatment such as surgery and radiotherapy to the lymph nodes. This condition can also be due a congenital problem of the lymphatics, which can be a very debilitating condition, if not managed and treated correctly.
Kirtida is also trained in manual lymphatic drainage both with the Casley Smith and Leduc techniques of drainage. This is widely recognised and it is an effective method of management for lymphoedema. Unfortunately, there is limited availability nationally of manual lymphatic drainage due to lack of practitioners and expertise.
Whilst Kirtida specialises in lymphoedema, she also continues to work in breast oncology and currently runs the breast family history service, looking at evaluating the risk of breast cancer in families in addition to the genetic risk level.
Kirtida is proud to host her clinics at the Good Health Centre for people who have lymphoedema due to cancer treatments.
If you feel that you may need any lymphoedema treatment you can contact Kirtida directly for an initial consultation on Kirtidapatel01@gmail.com or 07802431434.
Kirtida is recognised by various health insurance companies, please note you would require a GP or a consultant referral in order to gain treatment from Kirtida.
As usual my appointment was on time and the treatment was carried out with adjustment to how my symptoms presented on the day ! I would highly recommend the practitioners at the Good Health Centre
Outstanding experience throughout! Try these guys out if you have the need to fix yourself… 10/10.
Ashleigh Clarke
2023-10-11
Took my 4 month old son the staff are very friendly and informative My son was relaxed and calm Great experience would recommend
Everyone is always so helpful and caring. Amazing service
An appointment for my back issue was made the same day I phoned in. I was assessed then the initial treatment made difference straight away. My next appointment is booked and I'm confident the issue will be sorted very quickly. A fabulous service from The Health Centre!
As ever,the staff are friendly and professional.I have great confidence that the issues I have with my lower back pain will be resolved and I have been given the advice needed to,hopefully,maintain that.