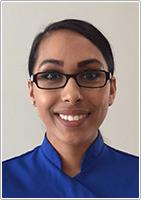 Book With Pavan
Pavan Kaur Hunjan
Pavan Kaur qualified as a Complementary Therapist from the University of Westminster and Manchester in 2012 and has been practising as a therapist ever since. During this time she ran successful practices on London's Harley Street and at Neal's Yard Remedies in Windsor.
Pavan uses a variety of approaches to help her clients, depending on their individual needs, including clinical aromatherapy, acupressure, reflexology and shiatsu. She has also discovered the interesting yet consistent psychosomatic connection between tension held in the body and our mental digestion of negative experiences. As a result she recently trained and qualified as a Neuro-Linguistic Programming practitioner, which focuses linguistically on transforming negative experiences to positive pragmatic solutions in people's lives helping them let go and achieve goals in life. Her experience involves working with people with an array of conditions from stress, pain and palliative care.
Pavan's greatest reward as a therapist is being able to help people become pain free, positive and encourage a lifestyle of prevention for optimum wellbeing.
Pavan is a professional member of the International Federation Of Aromatherapists and the ABNLP.
Appointments with Pavan are available at the Good Health Centre on Tuesday afternoons.
Therapies that Pavan offers
Aromatherapy
Acupressure
Facial massage
Reflexology
Pavan's Expertise