Counselling & Psychotherapy
At Good Health Centre we can offer counselling for individuals and couples who feel that they need to talk about a problem or difficult decision with someone other than family or friends.
We provide a safe, quiet and confidential space for you to explore difficulties, distress or lack of direction with a counsellor who will not judge you or tell you what to do.
Who is it for?
Individuals or couples who are:
Going through a life event or crisis e.g. redundancy, bereavement or divorce.
Feeling stressed, anxious, depressed, confused, unhappy
Experiencing panic attacks/flashbacks
Experiencing relationship/parenting/stepfamily difficulties
Wanting to explore self development/low self esteem
Experiencing work-related problems
And for those who do not have clearly defined issues, but feel empty, lacking direction, dissatisfied or that they need to find meaning in their lives.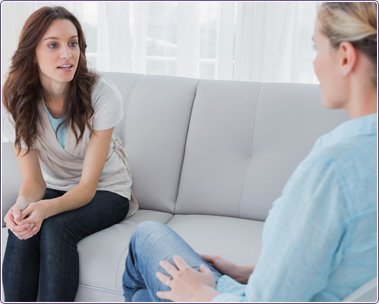 Counselling offers you the opportunity to explore and understand the source of your difficulties at your own pace, with time to think and reflect. Counselling involves exploring, understanding and deciding what, if anything, to do about a particular issue. Counselling helps you to look at aspects of your life, relationships and yourself which you may not have been aware of, or been able to face before. First sessions focus on exploring the difficulties you are bringing. Sometimes hearing yourself telling your story to an attentive listener, who asks questions to gain a deeper understanding, can be very helpful. People describe a sense of relief and of feeling a 'weight has been lifted' when they can speak of matters they may have been keeping to themselves for a long time. Sometimes a session might span your past, present and future.
The counsellor helps you to make links between events and experiences in your past and your present behaviour. This linking and in-depth understanding then empowers you to consider ways in which you might want to change. You can evaluate your options and choices and decide which are best for your future well being. Coping strategies you might have developed as a child might not be serving you well as an adult. At other times a session might focus on a 'here and now' problem, such as learning how to relax, strategies to cope with panic attacks or negative thinking. The counselling will be 'tailored' according to the issues you bring and what you need at any one session.
This depends on the problem. Sometimes one session is enough, sometimes a problem may take a few weekly sessions, whereas a long standing, deep-rooted problem might take several months or longer to resolve. Each session lasts for one hour.
In the first session the couple are each given the opportunity to talk about the issues which have brought them to counselling and why they have decided to seek help at this point. They will be asked to give a 'potted history' of their relationship: how they met, what attracted them to each other and significant events, to enable their counsellor to place their present difficulties in the context of the whole relationship.
It sometimes helps couples to remember the good things they experienced before their current difficulties and to reflect on why the relationship might be worth improving or saving. The counsellor acts as a bridge to help each partner connect to the other's world. Helping couples communicate with more emotional honesty and find ways of talking about the 'difficult stuff' safely is an important element of couples therapy.
When an issue or problem has been explored and understood, the counsellor will help the couple decide what changes can be realistically implemented to make their relationship happier and more fulfilling. If a couple, or one partner, decides that they cannot continue in the relationship, the counsellor's role is to help them manage the separation. The focus will be on working through their feelings of loss, helping the couple work together to resolve practical issues and prioritising the needs of any children. This therapy can help separating couples cooperate so that they can use mediation which can help reduce the emotional and financial costs of divorce. Separation counselling can be beneficial for couples and individuals.
This depends on the couple's problems and the commitment of both partners to engage with the counselling, but the average number is 9-10 sessions.
If possible it's best for a couple to attend relationship counselling together. Sometimes if one person starts the ball rolling the other partner will attend the next session too. If your partner refuses to go with you, counselling can still help you. There may be changes you can make which will improve your relationship, or you can share insights and strategies with your partner. Some people work out their feelings with a counsellor on their own before seeing a different counsellor with their partner for couples therapy.
Ask Us About Counselling & Psychotherapy
Our Counselling & Psychotherapy Experts